Os dejamos el texto original de la entrevista que aparece en nodicenoglory.com .
Review: 15mm Epsilon Studios Terrain
For our MW Eastern Front escalation league, the Huntsville Historical Gamers were given the opportunity to review a nice addition to our table terrain. This Iconic terrain piece is produced in 15mm by the Epsilon Studios from Barcelona, Spain
www.escenografia-epsilon.com
Introducing the Stalingrad – Barmaley Fountain. This historical fountain is based on a Russian fairy tale, Aybolit and Barmaley, written in 1925 by Korney Chukovsky. In the poem, Doctor Aybolit cautions the Little children: Do not go to Africa for there are large evil barmaley there that will bite you! In the whimsical statue, by sculptor Romuald Lodko, the children are dancing around the barmaley.

Interesting literary trivia: The Russian Aybolit and Barmaley fairy tale is actually based on the "Doctor Dolittle" series of children's books written by English author, Hugh Lofting. Doctor Dolittle first appeared in the author's illustrated letters to his children, written from the trenches while serving in the British Army during World War I.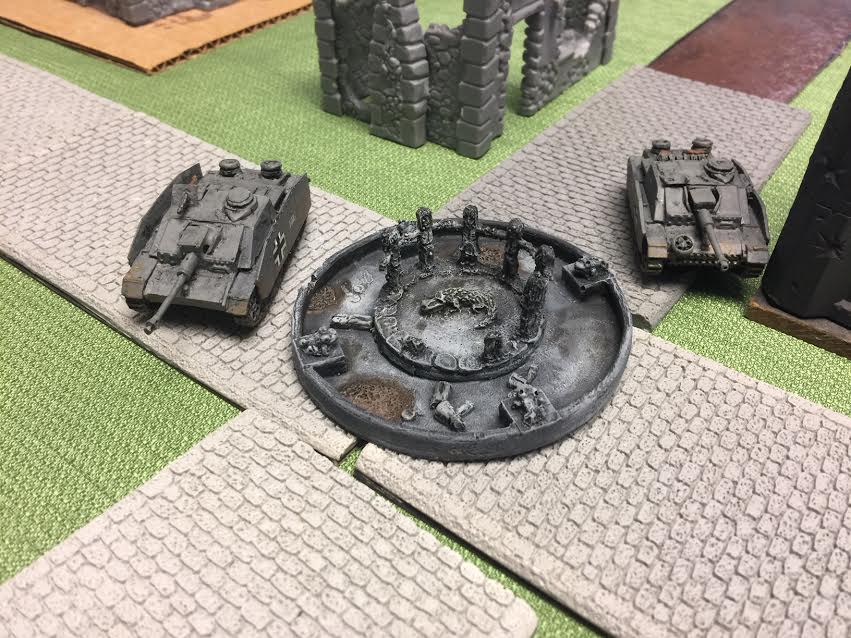 The first thing I like about this fascinating piece is that it comes painted, and Ready-2-Play. As a gamer, I appreciate that no additional effort is required to get it onto the gaming table. The piece measures in at 3 inches in diameter and 1 inch tall. Like the original, the Epsilon Studios fountain has the small children holding hands standing around the barmaley. Several of the children have knocked into the fountain by battle damage. The Epsilon Studios model also replicates the frogs, which produced the fountains of water along the outer wall. This is a fun little piece of table bling, ideally suited for a Stalingrad table.
Stay tuned for our Stalingrad Mega-Game, battle report.
If you haven't heard of Epsilon Studios, I encourage you to check them out, and their line of wargaming accessories. Or even better yet, take a tour of the studio, and enjoy the beautiful beaches of Barcelona.
The Huntsville Historical Gamers were able to speak with Epsilon owner, Oscar Sánchez about the sculpt
HHG: Buenos Dias Oscar. Going to "work" every day must be a pleasure. I mean the beautiful beaches of Barcelona must be a distraction…
OS: Yes, The beaches of Barcelona are beautiful! But our studios are actually in Santa Coloma de Gramenet. The city next to Barcelona.
HHG: How long have you been producing miniatures?
OS: Escenografía épsilon has been producing wargaming miniatures since 2002. We started off with 28mm figures and terrain. Which is very popular here in Europe.
HHG: Who is the sculptor of these beautiful pieces?
OS: I am, Thank You.
HHG: What media/method do you use?
OS: I use multiple media, depending on the sculpt. For our Nautical Landing Craft (LCM, LCVP and LCA), plastics are very useful. For our houses and structures, we use resin and putties.
HHG: What other models do you have in your studios?
OS: The Epsilon catalog currently lists 40 pieces in our 15mm range, including the Barmaley Fountain. Epsilon also has a 15mm range for Medieval gaming featuring eight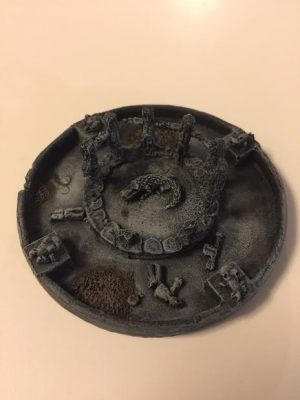 houses and structures and an additional 16 houses and structures in the 10mm historical range.
HHG: Love the LCM!
OS: Thank you. Yes, that is a universal model not just for Normandy, but also North Africa, Sicily, Italy, South of France and Pacific Island wargaming.
HHG: Love the Radar tracking station objective.
OS: Thank you. Yes, these add real flavor to wargaming missions.
HHG: Love the army objectives.
OS: Thank you. Yes, these add great detail to any Army. We currently have 20 different army objectives available.
HHG: Love the windmill
OS: Thank you. Yes, that is a great model on a wargaming table.
HHG: What news do you have for us about future releases?
OS: We are a very accessible company and we adapt very quickly to the needs of the market. The Barmaley Fountain is an example of that. We can produce in other scales based on the interest of the gamer.
HHG: Fantastic miniatures. Thank you for sharing with us.
OS: Our Pleasure. We love receiving e-mails, and orders of course …